If you're planning an affordable trip to Iceland, you may be trying to cut travel costs wherever you can. However, after you've booked that budget flight and picked out an affordable home rental for your stay, don't automatically assume you should rent a budget 2WD vehicle for your Iceland trip. In some cases, you'll need to rent a 4×4 car in order to get around.
Luckily, you can do so even on a small travel budget. Here's everything you need to know about renting cheap 4×4 cars in Iceland.
Do You Need a 4×4 Rental in Iceland?
But, first of all, let's get one thing out of the way. Do you even need a 4WD vehicle for your trip to Iceland? The answer will depend on a few things, but most importantly on where you plan to go while in Iceland and when you plan to travel to Iceland.
A 4×4 vehicle will give you unparalleled traction and stability as you drive. This makes 4×4 vehicles ideal for driving in Iceland during the winter months when inclement weather can cause snow and ice on the roadways, often unpredictably. It also makes a 4×4 vehicle optimum for visiting some of Iceland's more remote and rugged regions, where the roads might not be in the best conditions. (On top of this, a 4WD vehicle is actually legally required when you drive in the Icelandic Highlands in the summer.)
Additionally, though maybe not entirely as important, a 4×4 vehicle will give you extra room and comfort. Since 4×4 cars are often bigger than their 2WD counterparts, a 4×4 vehicle will typically give you more space to spread out from your fellow passengers, as well as to store your luggage. So, if you're travelling with more than one or two other people, you might find that renting a 4×4 car in Iceland just makes your trip more enjoyable.
Should you reserve a budget 4×4 rental in Iceland?
But, beyond all these perks of renting a 4×4 vehicle in general, renting a budget 4×4 vehicle in particular while in Iceland can give you additional benefits.
Sure, you get all that extra space for luggage and fellow travellers, better handling for all sorts of weather conditions and greater safety, but you get it all on a budget. This means you can spend more of your travel cash on more fun things, like cool tours or visiting some of Iceland's famous hot spring spas. You'll get extra flexibility in your itinerary, too, as you're able to go more places around Iceland with your 4×4 vehicle's capabilities, and you'll have the extra cash to get there since you opted for a budget version of one of these more expensive vehicles.
How Much Does it Cost for an Affordable 4×4 Car Rental in Iceland?
But we know your biggest question. If you're planning to travel to Iceland on a budget, then it all comes down to the money. So how much does it cost to reserve an affordable 4×4 car rental in Iceland?
In general, the country is an expensive travel destination, so you might find that costs are higher than where you live. However, there are ways you can save money. For example, you can save money on your car rental by renting an older car or by renting at the airport, versus once you get into Reykjavik (if that's where you're going after flying into Keflavik).
In general, you can expect the average price for renting a 4×4 vehicle at Keflavik Airport to be about 100 USD/93 EUR per day. Prices fluctuate, so they can go down as low as 69 USD/64 EUR per day, or as high as 180 USD/168 EUR per day.
If you're renting a budget 4WD, though, prices can go as low as 45 USD/42 EUR, with prices rarely going higher than 116 USD/108 EUR. Factors that influence price can include the car itself (such as how old it is, the size and the model); what kind of rental insurance you purchase; and the season and whether or not demand is high.
Rental Car in Iceland offers low, competitive prices on 4×4 budget rentals and platinum insurance is included in the cost of all rentals.
Check out our full range of available budget 4×4 vehicles.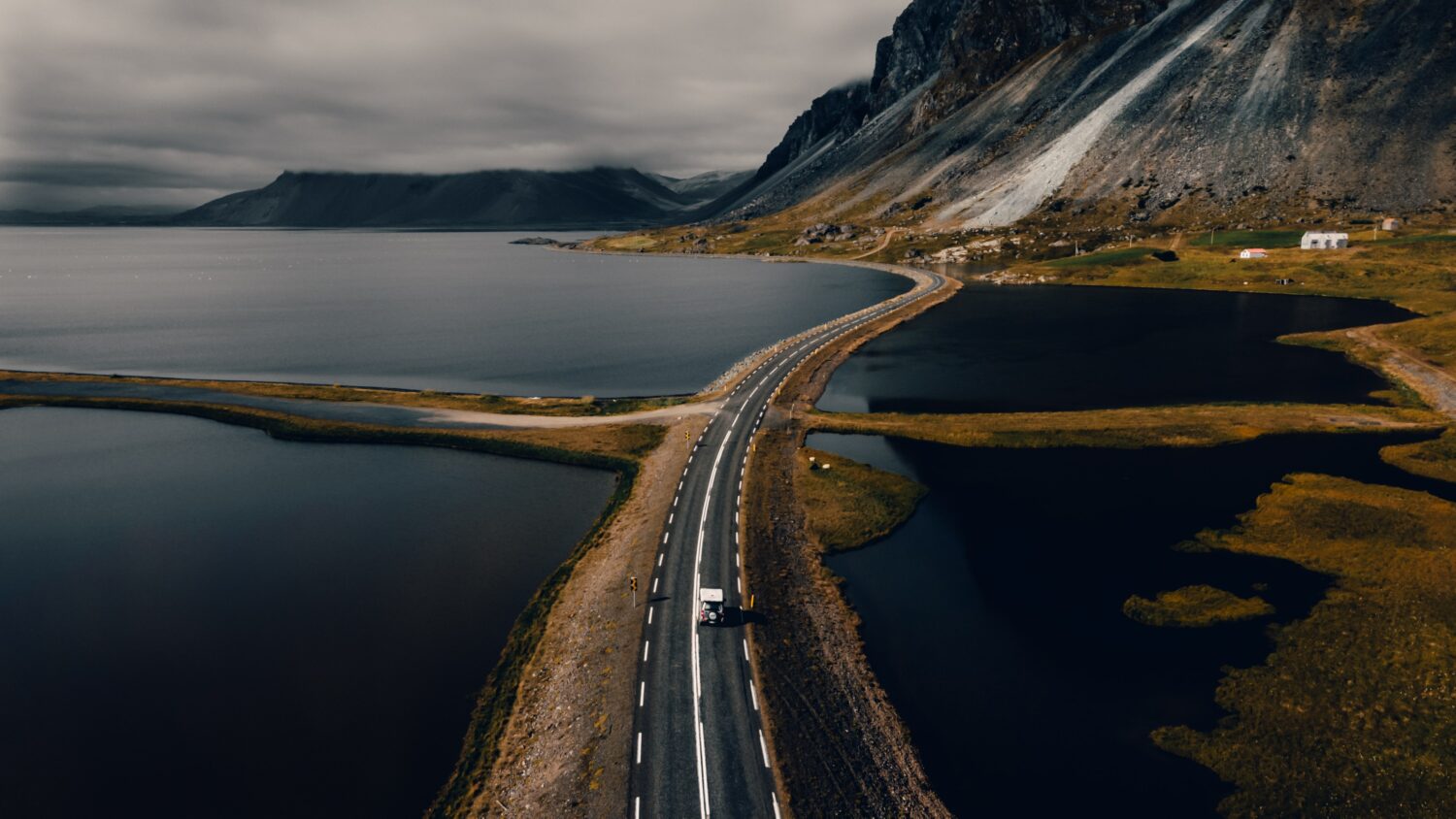 How to Save Money on Your 4WD Car in Iceland
As mentioned, there are a variety of factors that are going to influence how much you pay for your 4×4 rental in Iceland. You can save some money by…
Rental Car in Iceland offers older vehicles that are in great shape. You'll find a range of models that are available at a fraction of the cost, all because they're a few years older.
The further in advance of your trip that you can book your rental car, the more options you'll have, which means the more choice you'll have for the cheapest rentals. Especially if you're travelling to Iceland in the summer, when demand is high, booking your rental in advance can save you from paying top dollar for a car you don't really want.
Many rental providers — including Rental Car in Iceland! — offer extra discounts, such as discounts on gas that can save you more money later on in your trip.
Travelling in the shoulder season
Since summer is the peak travel season in Iceland, you can save on all of your travel costs by visiting during the spring, fall or winter months.
Looking for the right rental car company
Make sure that your rental car company won't be charging you any hidden fees and that they won't ask for a deposit upon arrival. Look at reviews and determine which rental car company is going to give you the most value for your money.
Choosing the right insurance
If you don't choose the right insurance, you could end up incurring costs during and after your trip. You never know what travel mishaps might occur, so be sure to get the coverage you need to protect yourself and your rental car from costly damages.
And, lastly, consider travelling with a friend who you can split your rental car costs with. A 4×4 rental is more than roomy enough for three or four travellers.
What are the Best Iceland 4×4 Budget Car Rentals?
Convinced a budget 4×4 car rental is right for you? Here are some of the best car rental options to consider.
The Dacia Duster is one of the most popular cheap 4×4 cars in Iceland. Fuel-efficient and roomy, it's a great choice for the budget traveller who needs extra space. It comes with manual transmission and the latest safety equipment.
If you don't mind driving a manual vehicle, you can save extra money by renting a Suzuki Jimny. While this rugged vehicle only has two seats, it's just the thing you need to get you through some of the Icelandic Highlands' roughest terrain.
The Kia Sorento is a nice SUV for families or those travelling with lots of luggage. It's super comfortable and a great pick for an Iceland road trip.
The Nissan Qashqai is a compact crossover SUV. This reliable vehicle can get you and several of your friends all around Iceland in comfort.
Renting a Cheap 4WD Car at Keflavik Airport
As alluded to above, you can save extra money by renting a cheap 4WD car at Keflavik Airport. Often, rental providers located at or near Keflavik Airport will provide you with free pick-up and drop-off services, ferrying you as needed between the rental car area and the airport. This isn't the case if you rent with a rental car company based out of Reykjavik.
Not only is this option much cheaper for you, but it's also much more convenient, as you can pick up your car right when you arrive in Iceland and head out on your itinerary, and then when you're done seeing the island, you can just drop it back off right before your outgoing flight.
Travelling the Icelandic F-roads in a Budget 4WD Car
If you're not familiar with them, the Icelandic F-roads are a series of unpaved, rugged highways that take you through the Icelandic Highlands. These roads require, by law, a 4×4 vehicle. If you try to drive on them with a 2WD vehicle, not only will you be subject to a fine, but it's very likely that you'll damage the 2WD vehicle and incur additional costs from your rental provider.
However, you don't need a high-priced 4WD vehicle to make it safely on the F-roads to your destination. You can rent a budget 4×4 vehicle for the same experience, at a lesser cost.
Just remember — no matter what rental car you have, if you drive on the F-roads and attempt to cross a river in your rental car, your rental insurance won't cover any damage that occurs. You'll have to pay for that out of pocket. So, if you're travelling to Iceland on a strict budget, think twice before you cross any rivers.
Why Rent a Budget 4WD with Rental Car in Iceland?
Ready to rent your 4WD vehicle for your upcoming trip to Iceland? Rental Car in Iceland is a local and trusted company that offers reliable, 4×4 car rentals at the lowest prices. Join our many satisfied customers, who rave about our platinum insurance with zero liability, great customer service and fleet of available vehicles. And, if you reserve your rental and then later decide you don't want it after all, you can rely on free cancellation up to 48 hours before your arrival.