If you're travelling to Iceland on a budget, and you've already started researching and planning for your trip, then you've likely discovered one key thing: one of the cheapest ways to see Iceland is via car. Driving yourself around Iceland is the most affordable way to get around the island and see as much as possible, without paying for pricey tours or other transportation.
However, just renting a car in Iceland isn't the only way to make your trip more budget-friendly. There are a few more ways you can save even more cash during your upcoming visit. Here's everything you need to know about how to drive in Iceland on a budget, as we answer questions like:
Is it even possible to drive around Iceland on a budget?
How can I save more money while driving in Iceland?
What do I need to know about driving in Iceland, period?
Are there driving fees in Iceland?
Keep reading to get all the answers to these questions, plus more handy info on how to travel cheap in Iceland.
How Much Does it Cost to Drive Around Iceland?
First things first, let's talk about the base costs of driving around Iceland. Before you can think about how to save money on your Iceland road trip, you'll need to pay for a few items that you can't travel without. These items will include…
Your rental car and insurance
You can't get around without a rental car and if you're renting a car, you can't drive it without insurance. Additionally, if you know you definitely will need certain rental car add-ons, like an extra driver on the contract, WiFi service or GPS service, then you'll want to consider the cost of those items as well.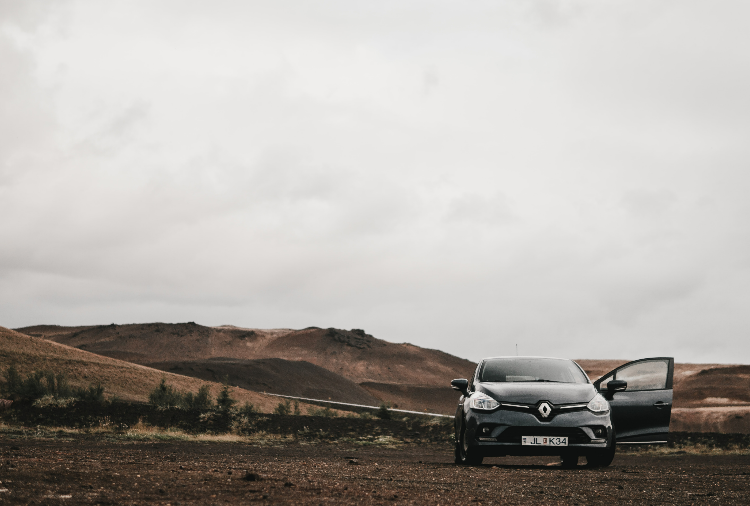 You'll need to put fuel in that rental car and, the longer you stay in Iceland, the more fuel you'll need. This is why it's so important to choose a fuel-efficient car, but we'll talk about that soon. Additionally, consider that, the longer your road trip itinerary in terms of kilometres, the more fuel you'll use as well.
Parking, tolls and entrance fees
We'll also discuss this a little further on in the article, but, as you plan your Iceland road trip itinerary, keep in mind that you'll incur parking and entrance fees, as well as tolls, depending on your route, too.
Accommodations, activities and meals
And, lastly, if there are any can't-miss activities on your itinerary, you'll want to include the cost of those in your budget. You'll also want to think about the cost of your accommodations and meals. For the purposes of this article, we'll be focusing on lowering the cost of your driving and transportation specifically, but if you need tips on how to save cash on accommodations and meals in Iceland, make sure to check out our overall guide to saving money in Iceland.
Tips for Driving Around Iceland on a Budget
So, do you have your base costs of your trip to Iceland all summed up? Have you accounted for the costs of your rental car, fuel, accommodations, activities, dining, parking and the like? Great — now it's time to see how you can save money on the driving aspect of your trip, so you have more cash in your travel budget for fun.
Getting Cheap Gas in Iceland
One way to save money on your Iceland road trip is by cutting your fuel costs. Fuel can be incredibly expensive in Iceland, but it doesn't need to take up a huge chunk of your travel budget.
Diesel is cheaper than gas in Iceland, so, when renting your car in Iceland, pick a diesel vehicle if you have a choice. While the cost won't be dramatically different, going with a diesel vehicle like the Dacia Duster will save you at least some money. Additionally, since diesel vehicles are more fuel-efficient, you'll find a diesel rental car will use up to 20% less fuel overall — and that really adds up in terms of money spent on fuel.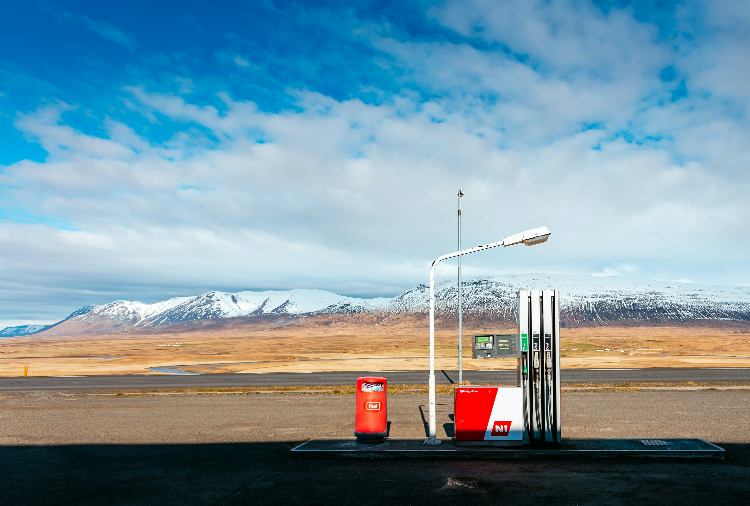 After you have your diesel rental vehicle sorted, it's time to take a look at your driving itinerary. Plan out your fuel stops and choose to refuel at the most affordable gas stations. Choose self-service stations for the most affordable prices (you'll find that even some staffed stations still have self-service pumps where you can save). Do note that Iceland's self-service fuel stations do require you to pay using a chipped card with a valid PIN.
Overall, the most affordable fuel stations in Iceland include Orkan, ÓB, Dælan and Atlantsolía. To compare gas station prices during your trip, use the GSM Bensin comparison page, which will show you various fuel companies, stations and the gasoline and diesel prices at each.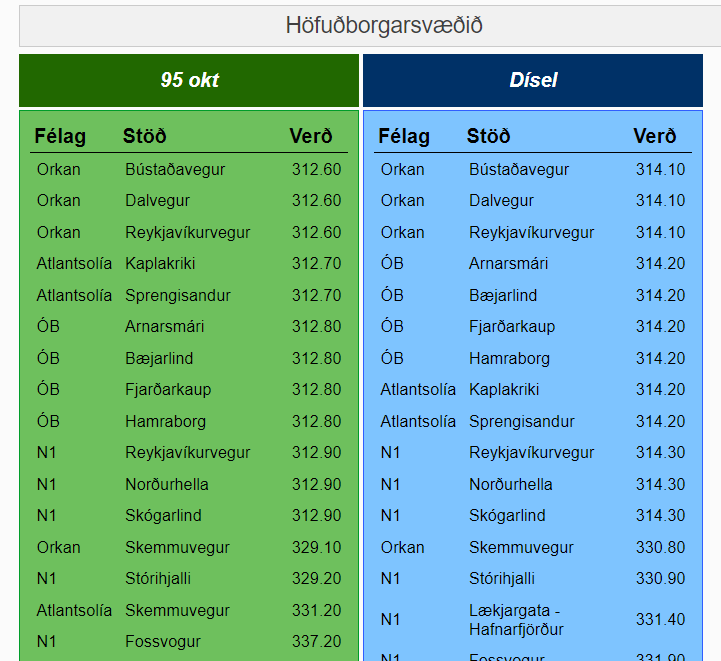 If you're specifically looking for more affordable gas in Reykjavik or another city where you have multiple options, don't hesitate to drive around until you find the best price. Gas stations even just a few streets away can offer markedly different pricing.
Lastly, you'll find that many car rental companies will give you a fuel discount chip for use during your rental period. If your rental provider gives you one of these, you just need to scan it before your transaction to receive a discount on your purchase. Some discount chips even come with extra perks, such as free coffee or other savings.
Finding Cheap and Free Parking in Reykjavik and the Rest of Iceland
The good news about accounting for your parking costs within your travel budget? Parking in Iceland is nearly always free! While you can't park in places like on the sides of the roads outside cities or in private parking areas, and you might have to pay for parking in city centres, parking is generally free and open everywhere else.
But what if you are in the city centre and need to find free parking? In Reykjavik, street parking is free between 6 p.m. and 9 a.m. every day, and all day on Sunday, except for in parking garages. Street parking does come with a fee between 9 a.m. and 6 p.m., Monday through Friday, and between 10 a.m. and 4 p.m. on Saturdays. These fees are only applicable in Reykjavik's city centre.
While this may seem easy enough, do take careful note of parking fees and ensure you're parking in a free, public space every time you park in Reykjavik. Otherwise, you could get a fine, which you'll need to pay on top of the initial cost of the parking.
Paying Tolls in Iceland
There's really only one main place where travellers might need to pay a toll while in Iceland, and that's at the Vadlaheidar Tunnel in North Iceland. The toll to use the tunnel is 1,500 ISK, or about $11 USD or 10.77 EUR. If you don't want to pay this toll, though, you do have options.
Instead of taking the tunnel, you can take a longer roadway, Vikurskard Road, which will add about a half-hour to your driving time. This will cost extra gas, though, so you'll need to decide for yourself where you'd like to spend the money. Whatever you do, don't try to avoid the toll as you'll be fined on top of the toll cost.
Paying Entrance Fees in Iceland
In some instances during an Iceland road trip, you might have to pay entrance fees to drive your car into a specific area. This is the case, for example, in Þingvellir National Park and Skaftafell National Park, as well as in one part of Vatnajökulsþjóðgarður National Park. You'll know you're coming into these areas when you spot the signage. The fee will differ but is calculated according to the type of car you're driving, as well as how long you're in the area.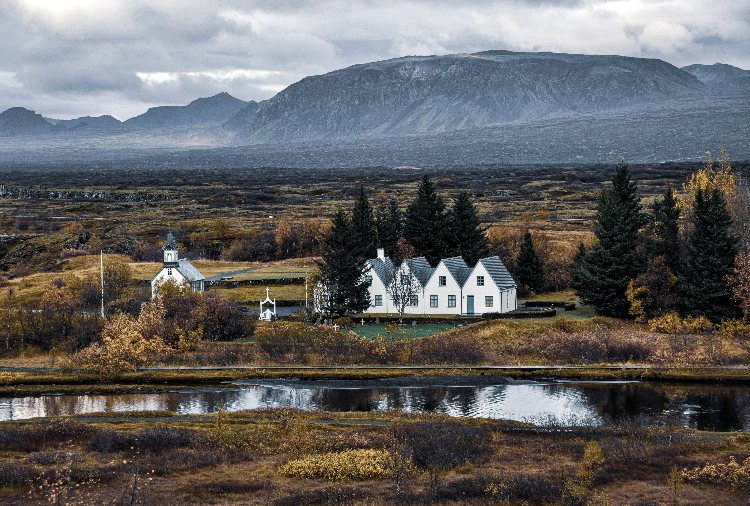 The cost for a car with up to five seats is 750 ISK per day (or $5.48 USD or 5.38 EUR). The cost for a car with more than five seats is 1,000 ISK per day (or $7.31 USD or 7.18 EUR). You can pay this fee on-site, at parking booths and machines, or ahead of your trip, at websites like myparking.is.
Following Iceland's Road Regulations
Finally, to ensure you do not incur any extra, unnecessary costs while driving around Iceland, follow all road regulations. You don't want to pay any hefty fines or fees if you don't have to!
Respect all speed limits and traffic regulations. Don't drive 2WD vehicles on F-roads, where it's legally required to drive only 4×4 vehicles. Similarly, don't drive 2WD vehicles in poor conditions — like during hazardous snow, wind or other storms, or across rivers — as this can cause damage and lead to extra costs from your rental company.
Of course, always pay the parking, tolls and entrance fees discussed above, so you don't end up with additional fines on top of the cost of the original fees.
The Best Way to Save Money on Driving Around Iceland?
But the best way to save money on driving around Iceland? By starting with an affordable rental car. Booking a rental car with Rental Car in Iceland assures you get the best deal on a wide selection of vehicles, from 2WD economy cars perfect for budget-savvy couples to 4×4 SUVs ideal for exploring Iceland's rugged terrain no matter the weather or season. Start planning your trip today and reach out to the Rental Car in Iceland team at info@rentalcariniceland.is.