Iceland is a bucket list travel destination, but travelling to Iceland on a budget is easier said than done. Iceland is known as one of the most expensive destinations in the world. However, that doesn't mean that it's completely impossible to travel cheap in Iceland. It just means you might need to be a little savvier than you would when travelling to other countries, to save cash where you can. 
To help you make the most of an Iceland self-drive trip, without completely draining your bank account, here are all of our top tips on what to do for free or cheap in Iceland.
General Top Tips for a Budget-Friendly Trip to Iceland
In general, no matter what kind of traveller you are or what you hope to do while in Iceland, there are a few key ways to save money as you plan your itinerary.
Look for an affordable car rental in Iceland.
If you plan on driving around Iceland (which is what we would recommend, since getting around Iceland via tours is expensive and public transportation isn't very widespread), you can save a lot of money by choosing to rent a more affordable car.
Budget rental cars in Iceland are still in great shape and very reliable; they just might not be the newest option or the most luxurious. You can find both 2WD and 4WD rental cars for agreeable prices (check out our current lineup of available rental cars to see what you can expect!).
For more tips on ways to save money when renting a car for an Iceland road trip, check out our guide to renting cheap cars, as well as our guide to affordable 4WD vehicles.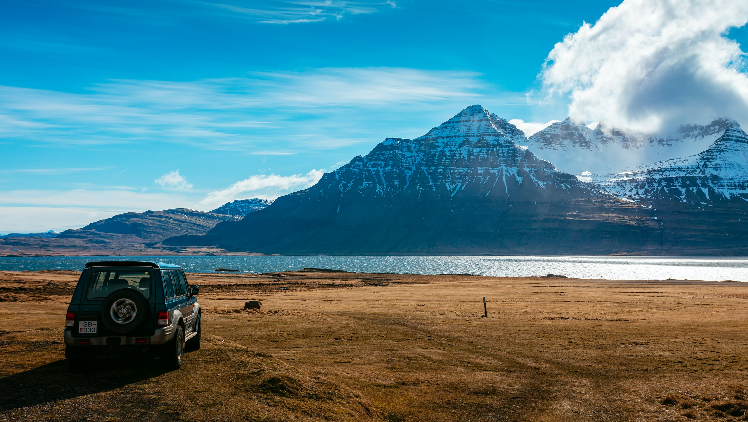 Research is oh-so-important when planning any travel, but it's especially important when you're planning budget travel. You need to know what your major costs will be, as well as the insider, local knowledge on how to save money.
One good place to start? With our extensive guide on how to travel to Iceland on a budget.
Realize that most of Iceland's top attractions are free.
The good news? Even though travelling to Iceland on a budget comes with its challenges, once you're here and you have your transportation and accommodations sorted, you'll find that most of the top attractions in the country are actually free!
After all, when you think of Iceland, what do you think of? Probably our natural attractions, right? Volcanoes, black sand beaches, glaciers? Well, the majority of those sites are free to visit.
Top Free Things to Do in Iceland (Plus Cheap Things to Do in Iceland)
But you didn't come here for general travel tips. If you need more general budget advice for travelling to Iceland, you can check out our overarching guide to how to travel to Iceland on a budget.
Otherwise, here are some of the top free activities in Iceland, plus some cheap activities in Iceland that will cost you very little.
1. Drive the Golden Circle
Arguably one of the most popular free experiences in Iceland (except for the cost of your driving, of course, though a budget car rental in Iceland makes all your road-tripping adventures far more affordable!), driving the Golden Circle can be done in a day or even a half-day. This small route is located near Reykjavik, so easily accessible, even in the winter months.
The Golden Circle features three major sites — Thingvellir National Park, Geysir geothermal area and Gullfoss Waterfall — all of which are free to visit, except for a small entrance fee at Thingvellir.
While you can find Golden Circle tours, these can be pretty pricey and not a great option for travellers who want a little more freedom and flexibility. Driving the Golden Circle on your own, in a rental car, allows you to stop whenever and wherever you like, and stay for as long as you like.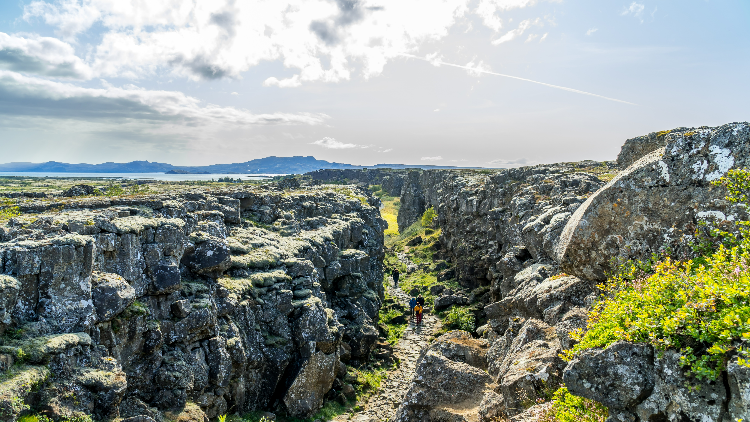 2. Chase some waterfalls
Another favourite cheap experience in Iceland, waterfall chasing is free except for some small parking fees in some instances (but not all).
There are waterfalls located all across Iceland, from the tall and skinny to the short and stout, from the placid and peaceful to the mighty and thundering. You could easily spend an entire vacation in Iceland just visiting the various waterfalls, but some of our favourites and top recommendations include Seljalandsfoss, Skogafoss, Gullfoss, Dettifoss, Godafoss, Dynjandi and Svartifoss.
For more information on waterfall chasing in Iceland, check out this guide on how to see Iceland's best waterfalls by car.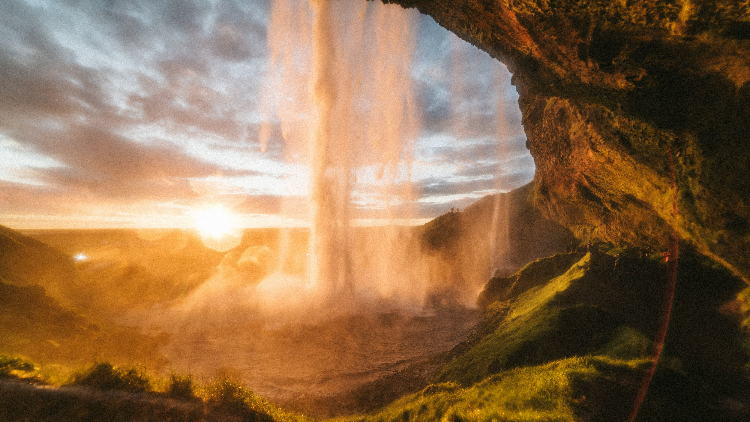 3. Swim in the free hot springs
If you've already been doing a little planning for your Iceland road trip, you likely came across some of the island's most famous hot springs and thought about adding a visit to these hot springs to your itinerary. However, once you also looked at the entrance fees required for these hot springs, you may have been a little discouraged. Some come with extremely pricey ticket fees!
Don't let that turn you off from all of Iceland's hot springs, though. Beyond the most famous hot springs, there are many more free or cheap hot springs that are all-natural, easy to visit and far less crowded than the tourist hot spots. You can even find some that are only accessible via a short hike, making your visit all the more adventurous and magical.
Favourite natural hot springs include Seljavallalaug, Reykjadalur, Landbrotalaug, Landmannalaugar, Krosslaug, Gudrunarlaug, Hellulaug, Hrunalaug and Kvika Foot Bath.
In addition to free-to-visit hot springs, Iceland is also home to an array of cheap, heated swimming pools.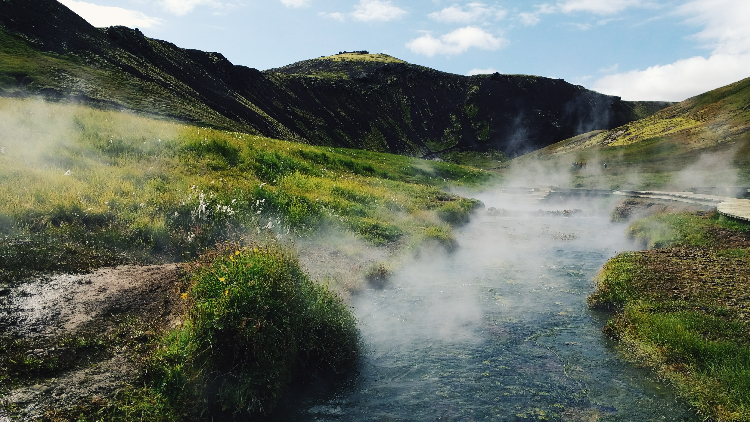 4. Go hunting for the northern lights
If you happen to visit Iceland during the winter months, you'll have another option when planning your budget-friendly Iceland itinerary: chasing the northern lights!
This one-of-a-kind free experience in Iceland is one you can't find just anywhere, and it's entirely and totally free. All you'll need is your rental car. With the help of a few northern lights-hunting tools (like free-to-access websites and meteorological predictions), you can drive across the country in the search for these spectacular natural phenomena.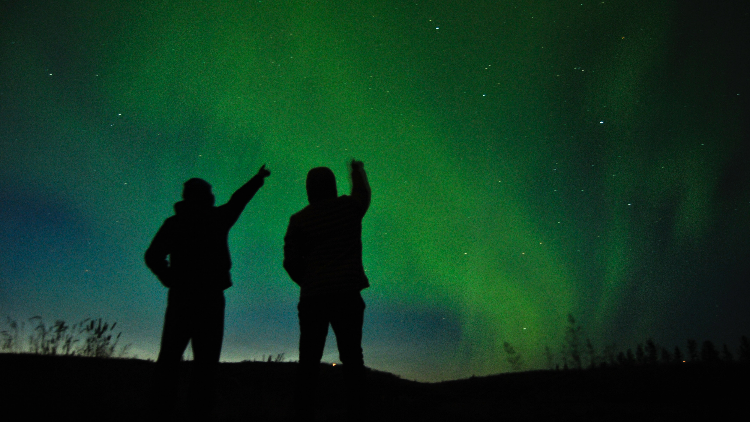 5. Visit a volcanic crater
Just like Iceland's waterfalls and glaciers are famous, so are our volcanoes. Luckily for adventurous travellers, Iceland's volcanoes are typically safe to hike and free to visit, except for a few small hiking fees on occasion.
Recommended volcanic craters to visit include Fagradalsfjall (which erupted in 2021), Kerid crater (located off the Golden Circle), Eldborg, Saxholl, Krafla caldera, Hverfjall, Viti, Eldfell and Burfell.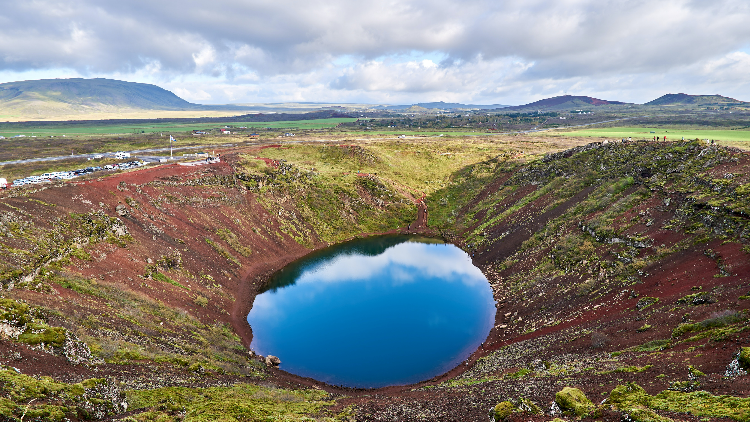 6. Go for a hike around a canyon or up a mountain
There's hardly any better way to experience Iceland's gorgeous natural scenery than by hiking. With the help of your handy rental car, you can drive to numerous hikes, park and then fully immerse yourself in nature. You'll find hiking trails for all skill levels, whether you're just a beginner hiker who wants more of a walk, or you're an accomplished hiker looking for a more challenging trek. The great thing is that all these hiking experiences are totally free.
Top recommended hiking spots include Glymur Waterfall, Esjan, Heidmork, Landmannalaugar, Fjadrargljufur Canyon, Svartifoss Waterfall, the Arnarstapi cliff walk, Kerlingarfjoll and Bruarfoss, located off the Golden Circle.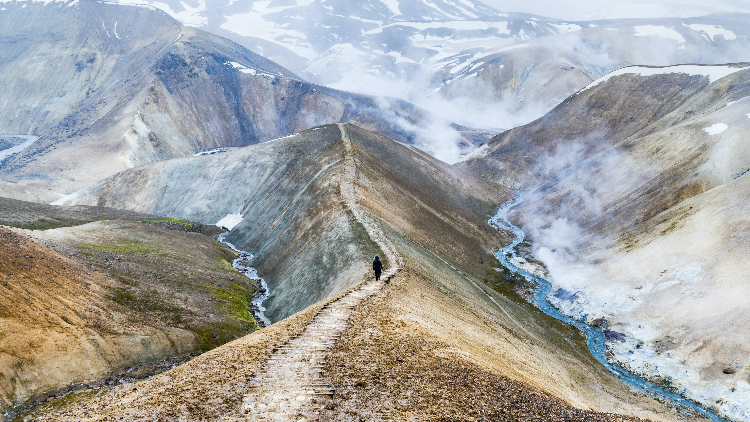 7. Explore the geothermal areas
Beyond the hot springs and natural pools, Iceland also offers a range of geothermal areas that aren't suitable for swimming (they're too hot!), but that are incredibly interesting and that attract travellers who want to get up close to these beautiful geological formations. Most geothermal areas are only accessible via private car, but if you have a rental, you can make your way to even the most remote of spots, no tour guide needed.
If you're already planning to take the Golden Circle route, visit the Geysir for an example of one of these popular geothermal areas. Otherwise, plan to visit Hverir, Gunnuvher, Deildartunguhver, Hveravellir or Reykjadalur.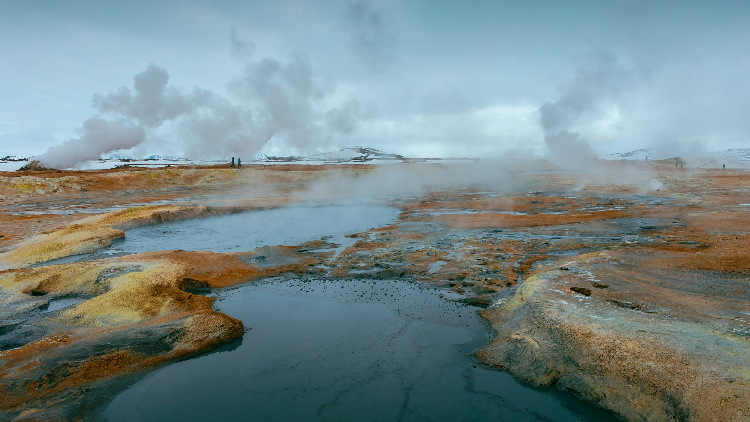 8. Go camping out in nature
If you like camping — or have just always wanted to try it, and never had the chance — you'll want to consider camping for at least a portion of your budget Iceland trip. Camping in Iceland means you can eat, sleep and stargaze right in the very heart of nature, with no need to drive back to a hotel after each day of adventuring.
You can find affordable camper vans for rent, but you can also bring a tent that packs away in your rental car when you're not using it. Either option will require you to pay for a campsite, but campsites in Iceland are far more affordable than hotel rooms.
If you plan on visiting in the winter months, or you'd like to bundle the costs of your rental car with your accommodations, consider booking a camper van, versus going with just a tent. You can find camper vans with 4WD capabilities, so they're suitable for winter weather, as well as driving in the rugged Icelandic Highlands during the summer.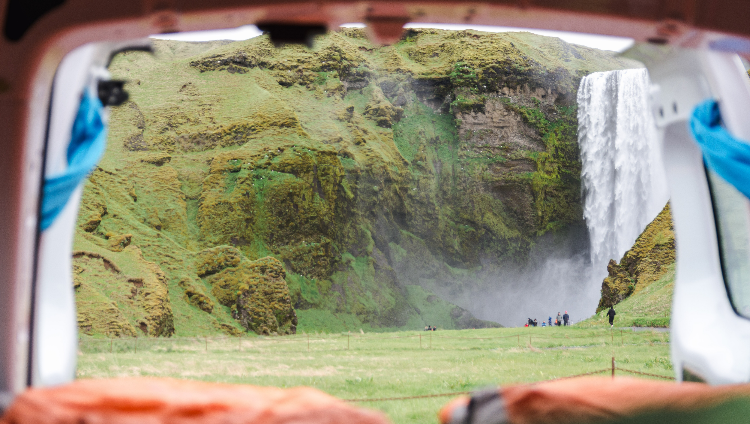 9. Watch out for wildlife
Even when just driving around Iceland, you'll want to be careful to watch out for the wildlife. A stray sheep can pop up on the roadways at any time!
However, if you particularly want to see some wildlife in Iceland, it's easy (and free!) to do so. Just choose to do a road trip or hike through some of Iceland's more wildlife-populated areas. From puffins to reindeer, arctic foxes to seals, each region of the country boasts its own notable critters.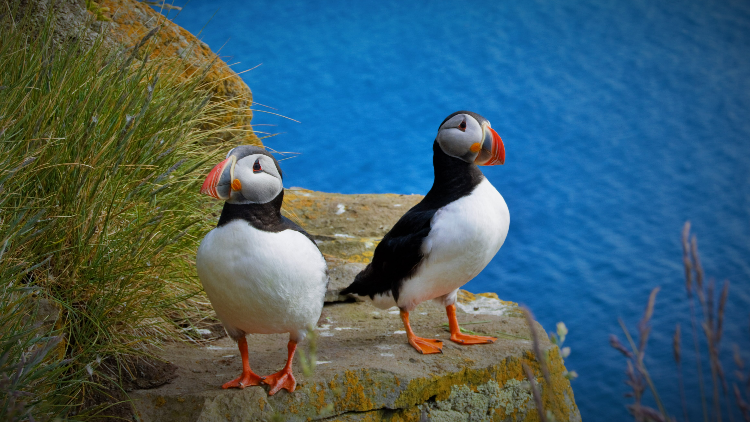 10. Hike a glacier
Sure, you could go on a regular hike … or you could up the ante and go on a glacier hike! Your more adventurous option, a glacier hiking tour is one of the more affordable tours you can book in Iceland, and it certainly offers the most bang for your buck.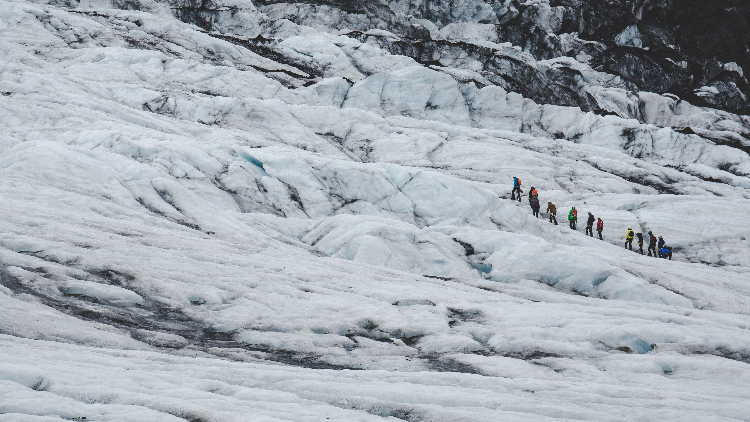 Free (and Cheap!) Activities are the Best Activities When You're in Iceland
While Iceland may seem far too expensive or out of your travel budget at first glance, it's actually quite affordable to explore all of Iceland's best activities, once you're here. It all starts with getting a great deal on your rental car — and that's exactly where Rental Car in Iceland can help. Check out our full lineup of offerings and reach out to start booking your Iceland trip today.